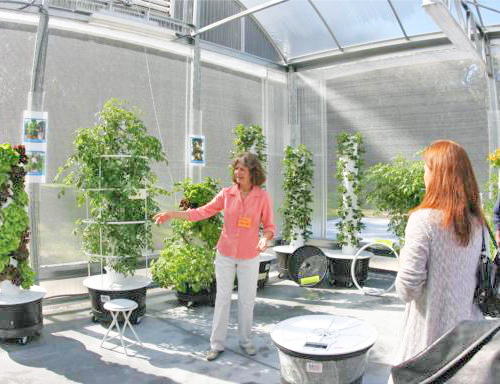 Welcome to Aeroponics DIY Podcast
Podcast: Play in new window | Download
I love talking about aeroponics, but the best is with experienced growers like my guest today. Let's welcome Dr. Jan Young ND of Living Towers.
Living Towers is home to a 4,400 square foot, state-of-the-art greenhouse that produces all types of  lettuces, herbs, and vegetables.
Jan built her greenhouse to educate others and sell to co-ops, stores, and missionaries in her community. She is able to grow all year long for them.
This aeroponic greenhouse of "Tower Gardens" is a prototype of the future in community and family food production and consumption. Their food is produced "Clean and Green" using rainwater collection and solar energy, creating the smallest possible ecological footprint.  Here they grow over 5,000 plants in their greenhouse using some of the latest technology in aeroponics.
In This Episode, you'll learn:
Why she was hesitant growing without soil.
How to use rock wool to start a seedling for your aeroponics system.
Why she now feels aeroponic growing is better than planting in soil.
She'll show you why aeroponics is for everyone, all ages, and why it doesn't need to be a science project.
How to control pests naturally, and the benefits of using complimentary plants keep pest down?
Having an aeroponic tower garden is like having a farmer's market right outside your backdoor.
And so much more in becoming a successful aeroponics gardener.
Podcast: Play in new window | Download
Links and Resources mentioned in this episode:

Thanks for Listening!
Thanks so much for joining us here on Aeroponics DIY.
If you enjoyed this episode, please share it using the social media buttons you see at the bottom of the post.
Also, please subscribe and leave a review for the Aeroponics DIY Podcast on iTunes if you liked the show! Ratings and reviews are extremely helpful and greatly appreciated! They do matter in the rankings of the show, and I read each and every one of them.